Perhaps today's Silver Linings song would have sprung up anyway, whether in COVID-19 times or not? We'll never know for sure, though probably it wouldn't be shared with the CP except for the time and circumstances these days are allowing.
Thanks to reader, Thad, for sharing words and the link to Modern Doxology, a song by Ed Metzger of the Bowling Green, Ohio First United Methodist church. Not only does Ed share the music (song HERE) he also provides a behind-the-scenes explanation of the thinking and voices in the song (explanation HERE)
Work like this is a wonderful augment to the Doxology that we so appreciate. Incorporating different voices for the Trinity, the word selection and their blending, the unison elements, the visual of leaves falling down, etc. Thanks to Ed for sharing his gifts with the local church (and with the larger internet community, including CP readers!)
Enjoy the day filled with the Spirit and recognition of the Silver Linings in your day!
---
NOTE: Ed's work and other musical offerings are in the Christian Playbook site at Silver Linings Amidst the Dark Clouds. As you see other potential Silver Linings material, please do share it along!
---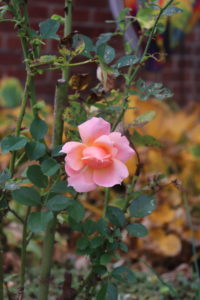 Lectionary Texts for Sunday, October 25, 2020:
---
Know someone who might like receiving messages like this?** If so, forward this message to them and they can sign up HERE
SILVER LININGS IN THE MIDST OF DARK CLOUDS
---
CHRISTIAN PLAYBOOK HUMOR – NEW UPDATES on 10/23
STREAMING WORSHIP SERVICES – Cincinnati, Bowling Green and more!
---
CLICK ON ICONS BELOW FOR LINKS TO CHRISTIAN PLAYBOOK PAGES ON DEVOTIONALS, PRAYERS, MUSIC, STUDY AND LOVE